Natural Yeast Society
A small team of Italians in Colorado, sharing their passion
for baking with natural yeast.
We have created this platform for all of our friends who used to think that natural yeast is only for sourdough. If you are curious about this magical living thing and its possibilities — with a particular focus on Italian specialties — you are in the right place!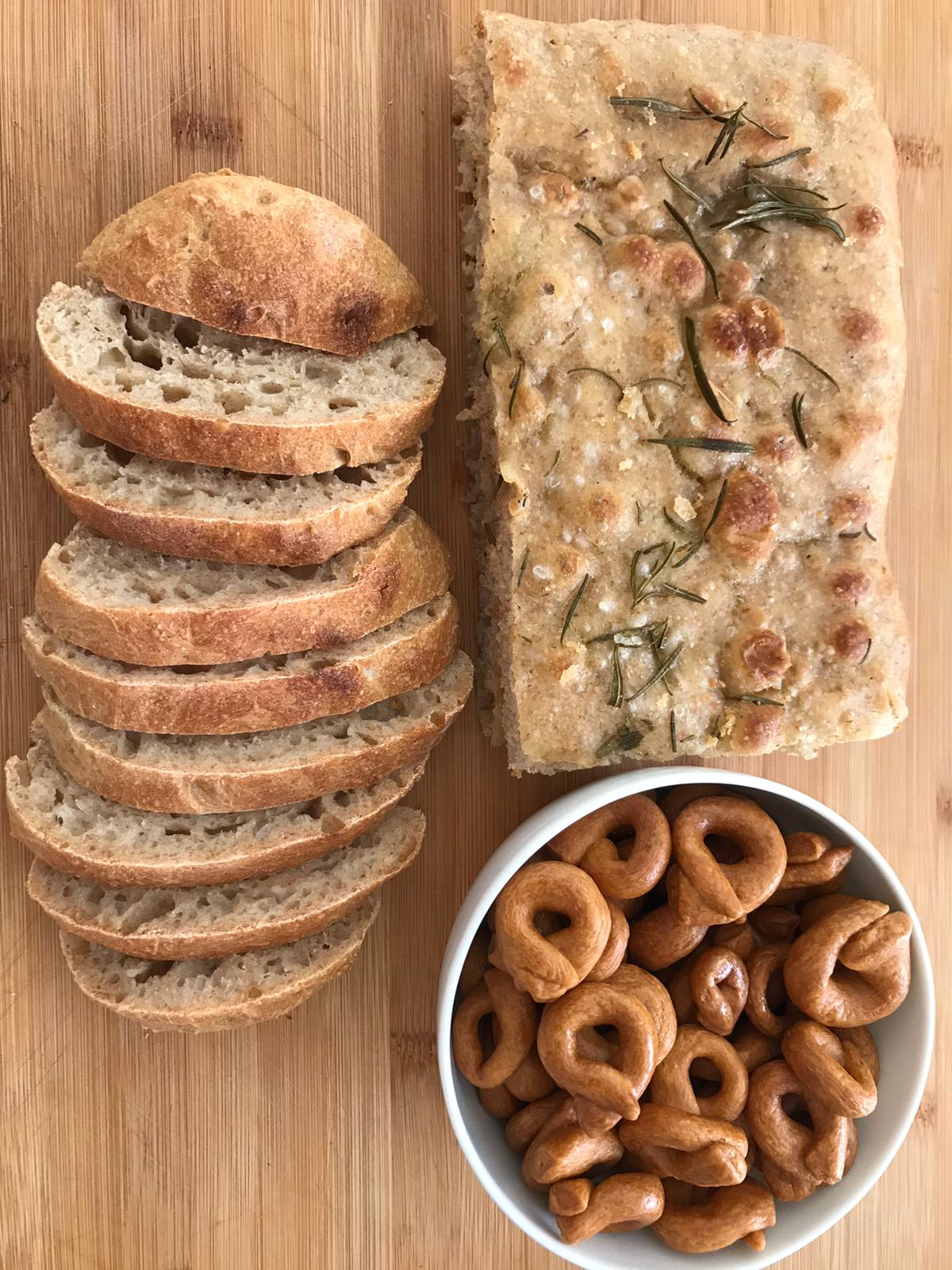 The Science Behind Natural Yeast
Natural yeast is a happy gathering of enzymes and bacteria who eat sugars and transform them into air bubbles — a process that we commonly know as "rising" of the dough. These enzymes and bacteria thrive at specific temperatures and when "fed" appropriate amounts of flours with precise strengths. 
So, which are these temperatures? And what do we mean by feeding the yeast? Also, what on earth is the strength of a flour?
Don't worry, we've got you covered!
A traditional recipe from the region of Emilia in Italy. Tall and soft focaccia-like bread that is meant to be baked and eaten immediately with the whole family, in the form of little warm "sandwiches" with lots of different filling-combinations
This recipe is ideal for those who have just started with natural yeast and need to learn the basics but still want to make real bread with all the essential steps.
Croissants of Pretend Puff
Cornetti is the Italian word for "croissant". It's definitely an important part of the traditional "cornetto e cappuccino" breakfast. Usually, cornetti are made of puff pastry, which requires a lengthy (though rewarding!) process. This recipe involves a "fake puff",…
Super soft buns for a special burger night at home.
Ingredients
450 g bread flour (90 %)
50 g whole wheat (10 %)
100 g liquid natural yeast (ready = about 4 hours…
I had some extra goat kefir to use and came up with this recipe for soft mini buns, slightly tangy, just perfect with butter and jam. Ingredients
300 g bread flour (100%)
80 g of liquid natural yeast (26%)
120 g water (40%)
120 g kefir…
The most famous focaccia is the one from the region of Liguria, but other regions have their version of it and here's how they make it in Apulia! Just a note that this is the Apulian version with no potato in the dough, which is traditional! 
"Eating Giorgia's bread is like getting a big hug while curled up next to a fire with fluffy blankets and a fluffy dog on a snowy day listening to the best music you've ever heard."
Georgia Ruth H. W.
"Giorgia's baking makes me cry – but for good reasons! Her gnocco, bread, and cakes are amazing, and they remind of what my mum and grandma cook back at home in Italy. Still not sure why she doesn't have her own bakery."
Nicola B.
"Every bake is with love"
"I've been lucky enough to try all of Claudia's baking experiments. From focaccia to breads to panettone! Every Sunday evening, as it is tradition, we make our own pizza and it is the best moment of the week."
Giacomo V.

"My taste buds are thankful"
"There is nothing that makes me feel at home more than baked goods. Brioche, croissants, pizza and focaccia are now part of my daily life, thanks to Giorgia's dedication to sharing her passion for natural yeast with the world. My taste buds are thankful."
Mario D.
Drop Us a Line
Let us know if you have questions! Chance is, other people will be wondering the same, so we'll use it as an inspiration for new blog posts…as long as we know the answer of course 😛